EXAMINE: Behind the Holla Jazz Digital Strategy
PROJECT + PRIORITIES
Holla Jazz is a Toronto-based dance company with a soulful and funky approach to vernacular jazz dance. In celebration of Jazz Appreciation Month, they staged the World Premiere of their first full-length work, FLOOR'D, an award-winning performance heavily inspired by jook dance and the raw energy of jazz.
In support of Holla Jazz's inaugural production, our digital team was tasked with uncovering how to take audiences through the journey of not knowing about Holla Jazz or jook dance to becoming educated about both of their histories using social media and online advertising.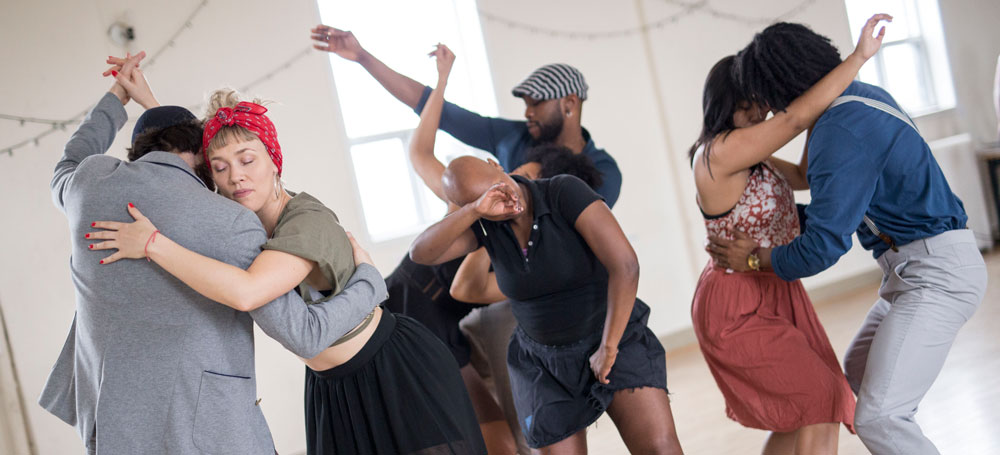 CHALLENGES + CONSIDERATIONS
Although Holla Jazz had already succeeded in cultivating devoted fans, the challenge was to expand the company's online reach beyond their current audience. Campaign goals were set to continue to broaden Holla Jazz's following amongst Toronto dance lovers, to educate audiences on the history of jazz + jook dance, and to ultimately introduce new fans to Holla Jazz by driving attendance to FLOOR'D.
With these goals in mind, a content plan was drafted and Holla Jazz was up to the challenge of creating high quality content to be distributed via Facebook + Instagram.
Due to the nature of Holla Jazz's campaign, video and blog content were prioritized. Video provided an engaging, interactive, and highly visual way to convey the spirit of Holla Jazz and their production of FLOOR'D. Informational blog posts illuminated Holla Jazz's creative vision and gave audiences an authentic look at the people involved in the project.
STRATEGY + OUTCOME
Over the course of the month leading up to FLOOR'D opening night, Holla Jazz's content was promoted on social media via weekly organic posts and paid boosts. In accordance with the campaign goal of education, audiences learned that jook dance includes the shimmy, the snake hips, and the twist in an engaging "Jazz Dance Dictionary" video, and were treated to captivating behind-the-scenes footage of FLOOR'D rehearsals.
Moreover, fans were able to learn all about the Holla Jazz dance company as well as the choreographers and the dancers of FLOOR'D through informational blog posts, which generated brand awareness and excitement leading up to the world premiere.
To achieve the goal of expanding Holla Jazz's core audience, a paid social media strategy on Facebook + Instagram was implemented. The paid social media campaign was designed to combat the decrease in organic reach experienced on these platforms and ensure that Holla Jazz's reach expanded beyond their following within carefully targeted Toronto-based performing arts communities. Online advertising campaigns complimented the social media strategy by providing additional touch points to make certain that FLOOR'D remained top of mind.
Owing to these digital advertising + promotional tactics, Holla Jazz was able to reach an audience up to 25 times greater than their Facebook following and 35 times greater than their Instagram following. Furthermore, they more than doubled their Facebook follower count, earned a 75% ROI, and ultimately secured a sold-out run of FLOOR'D.