BC Culture Days 2019
PRESS RELEASE
BC Culture Days Announces Ambassador Lineup
Beloved province-wide arts and cultural event celebrates 10th Anniversary
Vancouver, BC — BC Culture Days is pleased to announce its 2019 ambassadors. In honour of Culture Days' 10th anniversary celebration, 10 ambassadors will each be awarded $1,000, work with professional mentors, present a free Culture Days activity, and act as a spokesperson for BC Culture Days leading up to the Culture Days weekend on September 27–29, 2019.
Each ambassador, all emerging artists, will also take part in a three-month mentorship with a senior artist supported by provincial partner C*SARN (Canadian Senior Artists Resources Network).
"Mentorship is an exciting new component to our program this year," says Nazanin Shoja, BC Culture Days Manager.

 "The senior artists participating in BC Culture Days will be able to provide our ambassadors with an incredible opportunity for professional development by sharing their own experiences, offering both artistic and business advice, and connecting the young artists to a larger community network."
Ambassadors will be taking part in a variety of activities leading up to the Culture Days weekend, including presenting at pop-up and partner events and reaching out to other potential Culture Days participants.
This year's successful applicants in the 2019 BC Culture Days Ambassador Program are:
Artist biographies are available at: culturedays.ca/bc/ambassadors


Culture Days raises the awareness, accessibility, participation, and engagement of Canadians in the arts and cultural life of their communities. It is a collaborative movement dedicated to providing free, hands-on, and interactive arts and culture activities to cities and towns across Canada.
For more information on how to take part in BC Culture Days or to sign up for the BC Culture Days newsletter, visit: culturedays.ca/bc
For updates on BC Culture Days and the BC Culture Days ambassadors, please follow BC Culture Days on Twitter, Facebook, and Instagram.
BC Culture Days gratefully acknowledges the generosity of its funders, collaborators, and supporters: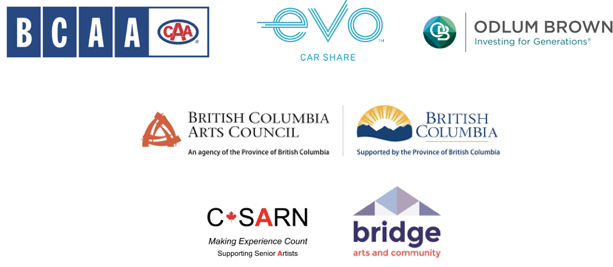 About BC Culture Days (culturedays.ca/bc)
BC Culture Days is administered through the Society to Bridge Arts and Community (Bridge Society), a registered charitable organization that has a mandate to promote awareness of arts and culture by establishing bridges between the general public, the private sector, arts organizations, and individual artists. Bridge Society staff work together with a volunteer provincial task force and steering committee, municipalities, and numerous community arts and cultural organizations to coordinate plans for the Culture Days weekend.
Download Ambassador Announcement Press Release: PDF or Word
Download Press Release for Metro Vancouver & Sea to Sky Region: PDF or Word
Download Press Release for Fraser Valley: PDF or Word
Download Press Release for Kootenay Region: PDF or Word
Download Press Release for Northern BC: PDF or Word
Download Press Release for Okanagan: PDF or Word
Download Press Release for Vancouver Island: PDF or Word